Step ahead and never forget any important days with Countdown. Whether it's a birthday, anniversary, vacation, or any significant event, this app allows you to set up countdowns effortlessly and keep an eye on the remaining time. Say goodbye to forgetting or losing track of important dates.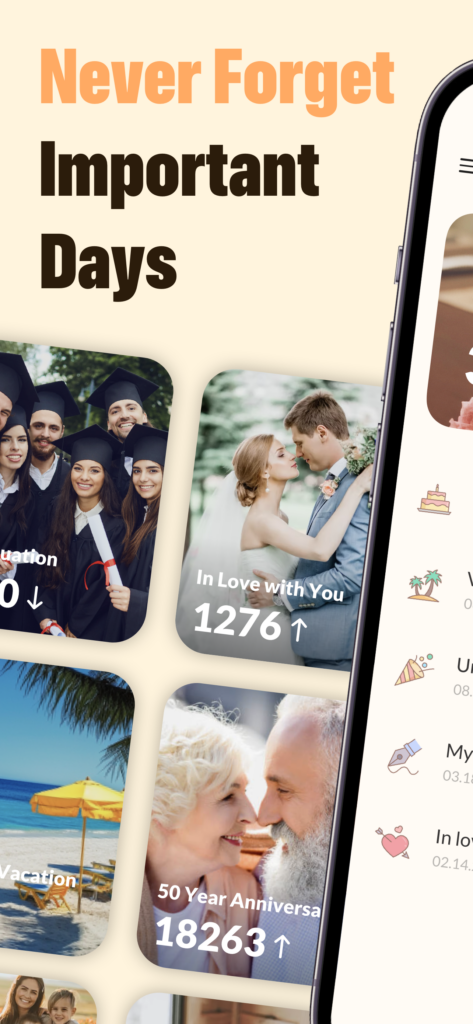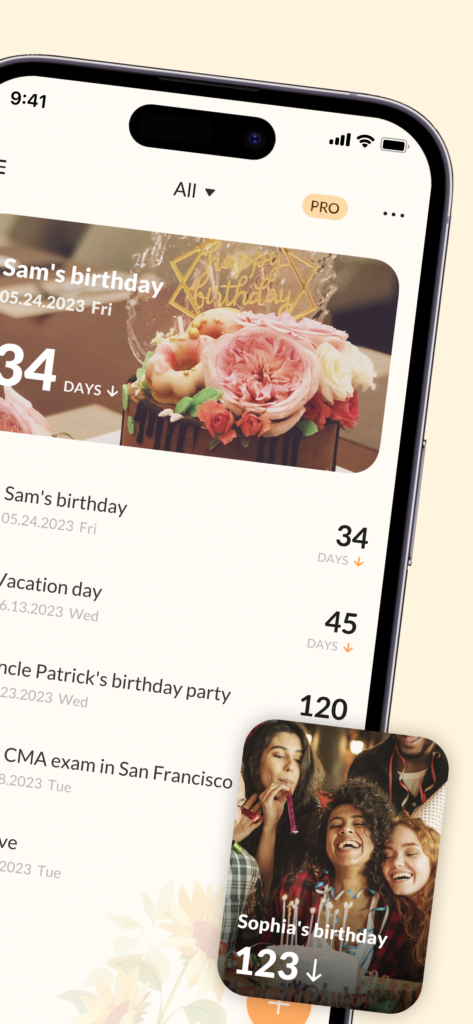 Try it out today and see how it can help you stay organized and on track. With Countdown, you can effortlessly manage all your events in one place. Create and organize multiple events into different categories to ensure everything is well-organized and easy to find.
Using the Countdown app is simple, with ONLY TWO STEPS that take less than 30 seconds to create a countdown or a count-up event: Click " + " on the home page, and input your event information.
Furthermore, Countdown app offers advanced event settings options:
Repeat: You can choose an event to repeat yearly, monthly, or weekly. Birthdays and anniversaries will never be forgotten again.
Reminder: All the special days that require reminders are being well taken care of. Countdown allows you to set multiple reminders for each event, ensuring that you'll be notified at the perfect time. Customize the reminder frequency and choose your preferred notification sound to suit your needs. Prepare for your event in advance.
What makes our Countdown stand out:
Aesthetic Event Background Pictures: Countdown offers various aesthetic event background pictures under different categories. With stunning backgrounds and immersive experiences, you'll feel completely engaged with all your upcoming events.
Stylish Widgets: Home screen widgets and lock screen widget are definitely supported by Countdown. Choose from a variety of styles and sizes to suit your personal preference and make your home screen truly stand out. These eye-catching widgets serve as constant reminders, allowing you to quickly glance at your device to stay updated on the status of your events.
Share Templates: Share your countdowns with ease using our template-sharing feature. Countdown provides a range of sharing templates that enable you to share your events with friends, family, and social media platforms at the click of a button. Celebrate your milestones and achievements together, and inspire others to make their moments count too.
Get ready to transform your life with a simple yet powerful tool that guarantees you'll never forget another important day again! Download now and experience the joy of being fully present for every moment that matters.
If you have any questions, please contact us at countdown@guloolootech.com.
Terms of Use: http://guloolootech.com/terms-of-use.html
Privacy Policy: http://guloolootech.com/privacy-policy.html