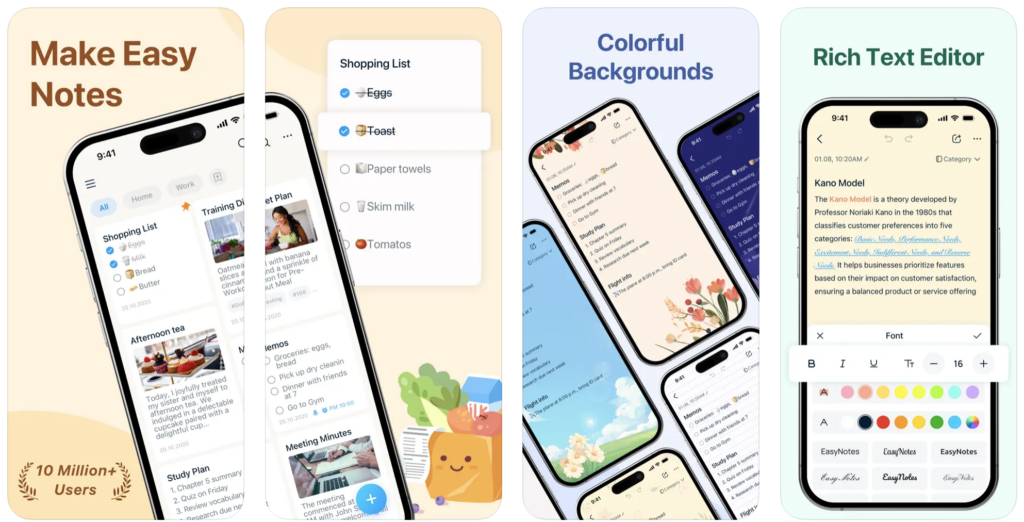 Download now : https://apps.apple.com/us/app/easy-notes-notepad-notebook/id6450029780?platform=iphone
Brighten your thoughts, and organize notes with style. Dive into a new note-taking experience with colorful backgrounds and innovative widgets.
Transform your concepts into reality with EasyNotes. Write notes, attach photos, craft a checklist, sketch ideas, record audio, capture moments, and explore more.
We Can Empower You With:
1. Boost your productivity with Rich Text Notes
• Make your memos stand out using bold, italic, and underlining.
• Play with fonts, sizes, and colors to add structure and emphasis.
• Boost readability and organization with bullet and numbered lists.
• Support sharing notes as pictures, exporting to PDF, or printing.
2. Diverse and Colorful Note Background Styles
• Engage in an immersive note-taking atmosphere, a whole new note-taking experience
• Dive into a world of creativity with over 200 colorful note backgrounds.
• Utilize background colors to classify and prioritize your notepad.
• Spread the magic of these colorful notes through sharing with others or printing.
• Immerse yourself in emotions, and elevate your overall note-taking experience with the vibrant notes background elements – these are the benchmarks that guide our notepad background selection.
3. Stylish Sticky Notes Widget
• Instantly reach your sticky notes, memos, and checklists right from your Home Screen.
• Choose from a diverse collection of 100+ stylish widget styles.
• Three widget sizes: large, medium, and small, allowing you to select what suits you best.
• Enjoy the convenience of accessing your important notes at a glance.
4. Get Notebook Organized
• Switch between list and grid views for easy navigation.
• Keep things in order with tags, reminders, and the archive feature.
• Provides six notebook sorting methods to maximize the satisfaction of different usage habits
• Create personalized categories for work projects, academic pursuits, personal aspirations, daily reflections, and more.
5. Express Yourself with Distinctive Emojis
• Tired of plain text? Infuse your messages with emojis to vividly convey your emotions to your notes.
• Discover our exclusive collection of emojis, offering hundreds of options that include all Usage scenarios for you to choose from.
6. Secure Your Notes with Lock Functions
• Safeguard your notebook with multiple security layers, including gesture lock, password lock, fingerprint lock, and face ID.
• You can lock a single category or lock the entire notepad category according to the usage scenario.
7. iCloud Sync
• iCloud sync makes notepad data safer and fast.
• Enjoy the ease of syncing notebook between your iPad and iPhone, promoting seamless collaboration and enhanced productivity.
8. Never Miss a thing with Note Reminders
• Ensure you stay on top of your tasks by setting timely reminders for important notes or memos.
• Add a personal touch by customizing reminder ringtones to suit your unique routine.
9. View Note in Timeline
• Gain a comprehensive view of your memos, events, and ideas through an intuitive calendar timeline.
Overall, whether it's for work, study, or personal use, EasyNotes is your ultimate note-taking companion.
Download EasyNotes for free on iPad and iPhone and let's make note-taking an enjoyable and productive experience. Join our community of users, and together, we'll keep pushing the boundaries of innovation.
If you have any issues, please mail us:
Email: easynotes.ios@guloolootech.com
Instagram: easynotes. official
Facebook:https://www.facebook.com/easynotes.official
Terms of use:https://guloolootech.com/terms-of-use.html
Privacy Policy:https://guloolootech.com/privacy-policy.html
Download now : https://apps.apple.com/us/app/easy-notes-notepad-notebook/id6450029780?platform=iphone